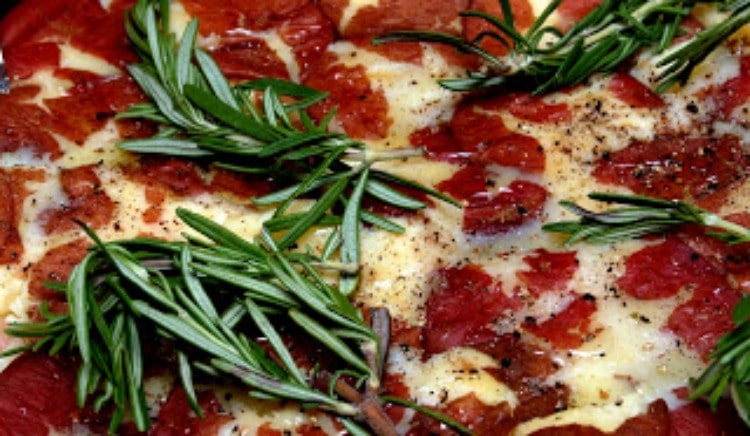 LOOKS LIKE PIZZA??? I AGREE! BUT IT'S NOT! IT'S SMASHED AND ROASTED RED POTATOES TOPPED WITH MELTED MOZZARELLA & PROVOLONE CHEESE. THESE TASTE LIKE POTATO SKINS!!! WHEN I SAW THIS RECIPE AT LOUANNESKITCHEN I KNEW I HAD TO MAKE THEM. YOU SEE, NOT ONLY ARE THEY GLUTEN FREE AND DELICIOUS BUT THEY ARE POTATOES AND MY HUBBY LOVES ALL THINGS POTATO!!!!! NEEDLESS TO SAY, THESE WERE A HUGE HIT. THANKS LOUANNE!!!!
2-3 lbs baby Yukon Gold potatoes (or red)
Salt, rosemary, pepper, shredded mozzarella and provolone to sprinkle on top
Extra virgin olive oil
Boil potatoes in salted water until tender. Drain and dry.
Line a baking sheet with nonstick foil and place potatoes on top.
Cover with a sheet of wax paper and use a meat pounder or metal spoon to smash potatoes to a 1/2″ thickness.
Preheat oven to 450 degrees.
Drizzle smashed potatoes generously with extra virgin olive oil, salt, pepper and fresh rosemary or any herbs you like.
Roast at 450 for 45 minutes till brown and crispy!
Sprinkle on the cheese and return to the oven 2 minutes-just to melt cheese!
Next time i will top with scallions too and serve sour cream on the side…maybe some bacon bits too!!! mmmmmmm! just like potato skins!!