It is that delicious time of the month again….. 2 Sweetie Pies with That Skinny Chick Can Bake means another wonderful dessert! Always a success when you bake from Liz's blog! Each month we bake up a recipe from each other and keep it a secret until reveal day! Super fun!
This cookie pizza surpassed all pizza expectations! A deep dish chocolate chunk cookie cake topped with melted ganache chocolate and finished off with toasty warm marshmallows. OMG!!!!!! The kids went crazy for this one, but so did the adults! It was THAT delish! You definitely need to try this one out soon and truly, it was easy to make! The base is a chocolate chip cookie recipe that you mound into a deep dish pizza pan. I used chocolate chunks in place of the chips but either would be wonderful. Just use what you have on hand! The ganache can be made in the microwave….I just love when that's an option! And the marshmallows, well you can thank your broiler for that toasty magic!
You can check out more of Liz's recipes on her social media channels! You will be thrilled you did!
You'll Need:
S'mores Cookie Pizza
Ingredients
Cookie Pizza Base
2 cups flour
1 cup graham cracker crumbs
1 teaspoon baking soda
½ teaspoon salt
1 cup salted butter, at room temperature
¾ cup sugar
¾ cup brown sugar
1 teaspoon vanilla
2 eggs
2 cups chocolate chunks or chips
Ganache Topping
12 ounces milk chocolate, chopped (I used Ghirardelli chips)
½ cup cream
Marshmallow Topping
Instructions
Preheat oven to 375º.
Line 14 inch deep dish pizza pan with nonstick foil.
Cream together butter and sugars.
Add eggs and vanilla.
Slowly mix in flour, graham cracker crumbs, salt and baking soda till well incorporated.
Stir in chunks or chocolate chips.
Spread dough into pan.
Bake 16-18 minutes until golden brown. (Do not underbake you want the base to be sturdy!)
Cool.
Melt milk chocolate and cream together in microwave until smooth.
Spread over crust, stopping about ½ inch from the edge.
Pop in freezer 10 minutes to firm chocolate.
Sprinkle mini marshmallows over chocolate in a single layer.
Broil about 6 inches from the element for 2-3 minutes until lightly toasted. Watch carefully!
Cool.
To slice, run a knife under very hot water, then dry to slice. I also sliced mine while cookie cake was still a bit warm from broiler which helped.
Adapted from
That Skinny Chick Can Bake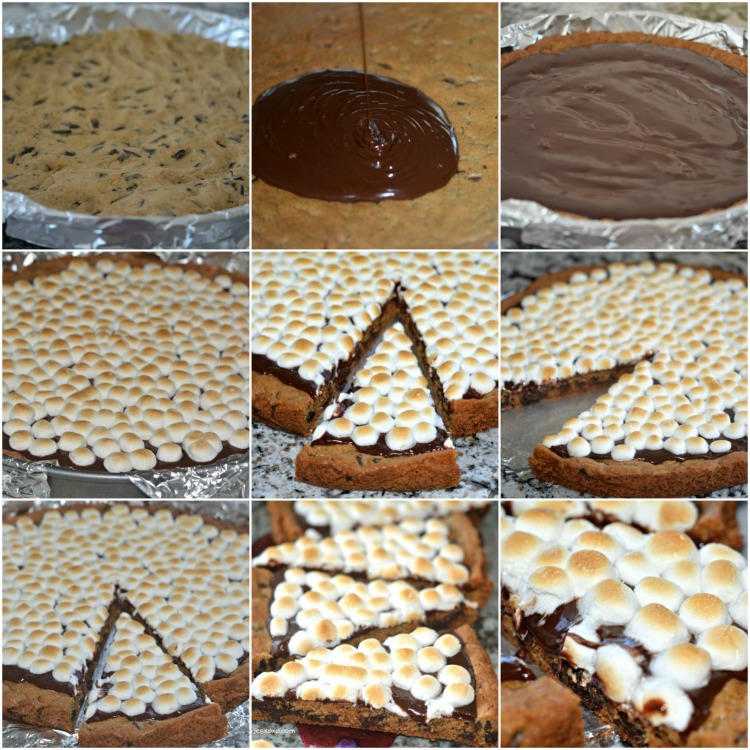 You May Love These, Too! XOXO