Charred Salmon with Peach Avocado Salsa and Crispy Rice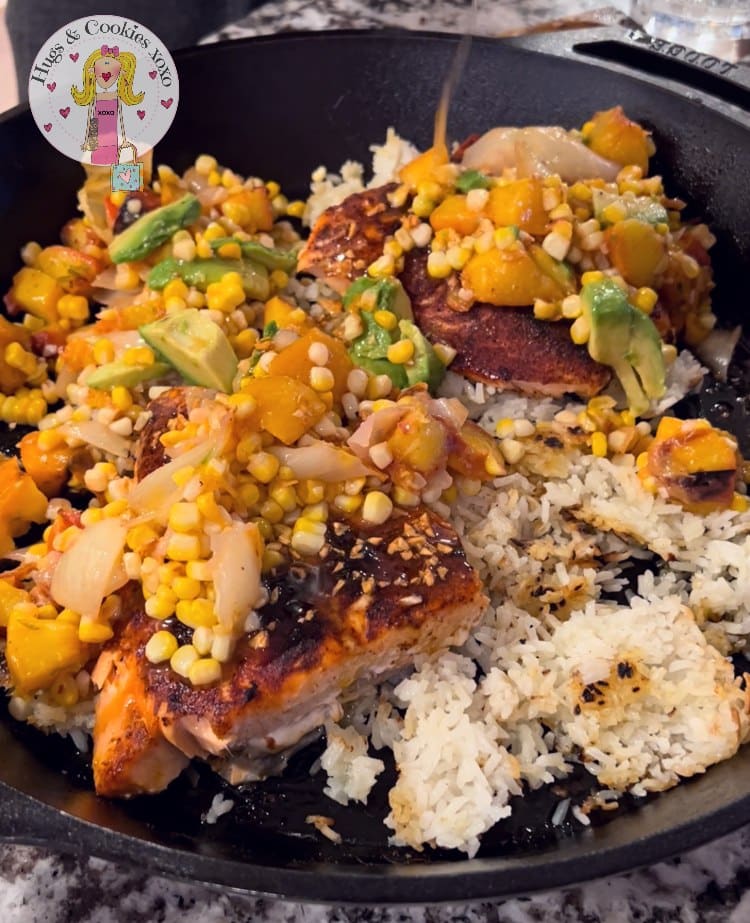 Charred Salmon with Peach Avocado Salsa and Crispy Rice
Ingredients
2 salmon filets (King or Norwegian)
2T. extra virgin olive oil
1 tablespoon honey
½ tablespoon chili powder
½ tablespoon smoked paprika
½ teaspoon garlic powder
½ teaspoon onion powder
pinch of cinnamon
kosher salt
Salsa
2 peaches, quartered
2 cobs of corn
1 shallot, halved
1 avocado, cubed
1 tablespoon lime zest, plus ¼ cup lime juice
Browned Garlic Butter
3 tablespoons salted butter
3 cloves garlic, chopped
Crispy Rice
1 c. jasmine rice
1¼ c. water
Instructions
Preheat the oven to 450° F.
Place salmon in a cast iron skillet and drizzle on the oil.
Pour honey on oil and then layer on the seasonings in the order listed.
Add peaches, corn and shallots to the pan.
Roast 15 minutes.
Switch to broil in last 2 mins and let it char.
Salsa
Dice peaches and shallot into a bowl.
Slice kernels off cobs and add to bowl.
Add avocado, zest and lime juice.
Browned butter
Cook butter in skillet until almost brown.
Chop garlic into a paste and add to butter.
Top salmon with salsa and drizzle on the browned garlic butter.
Crispy Rice
In a large skillet add the rice and water.
Season water with salt and stir.
Place over high heat and bring to a simmer.
Once simmering, cover and reduce to low.
Cook 15 mins.
Heat a cast iron skillet on medium.
Once hot, add butter.
Lay rice in and press flat with a spatual.
Cook until bottom crisps.
Invert onto a plate.
SalmonAdapted from Half Baked Harvest
Rice adapted from LA Times
You May Love These, Too! XOXO