COOKIE DOUGH BARS TOPPED WITH CHOCOLATE GLAZE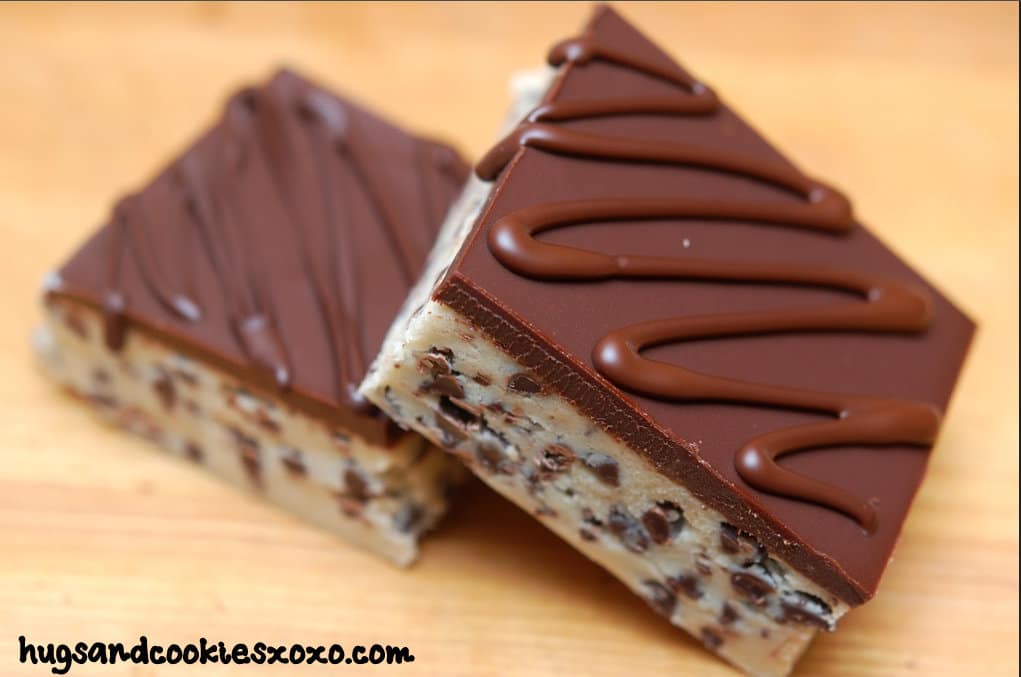 I am in love with these cookie dough bars!!!
IT'S TIME FOR THE SECRET RECIPE CLUB REVEAL AGAIN!!! FOR THE SECRET RECIPE CLUB, EVERYONE IS GIVEN THE NAME OF A BLOG (SECRETLY) AND YOU CHOOSE ONE RECIPE TO MAKE FROM THAT BLOG. THEN, EVERYONE POSTS AT THE SAME TIME ON THE SAME GIVEN DAY….TODAY!!!! IT IS FUN TO DISCOVER WHO HAD YOUR BLOG AND TO REVEAL THE ONE YOU WERE SECRETLY BAKING/COOKING FROM ALL ALONG!
THIS MONTH, I RECEIVED LIFE'S SIMPLE MEASURES! Her blog is filled with wonderful sweets to choose from so i felt right at home! I decided to try out her chocolate chip cookie dough bars as they were different than the ones I have made before. As suspected, they were awesome!!! The only change I made was to use my own ganache on top. Thanks for a great cookie dough bar recipe. Now we never have to fear raw cookie dough again, as this is egg free!!! and…..did I mention it is no-bake? Yup!
COOKIE DOUGH IS MIXING UP!


I PRESSED WAX PAPER ON TOP TO SMOOTH THE DOUGH OUT!


CHILLED & READY TO CUT!


NICE AND SMOOTH!



TIME TO ADD SOME CHOCOLATE DRIZZLES!
Recipe from Life's Simple Measures
COOKIE DOUGH BARS TOPPED WITH CHOCOLATE GLAZE
Ingredients
Cookie Dough:
½ c. unsalted butter, softened
¾ c. packed light brown sugar
1 tsp. vanilla extract
2 c. all purpose flour
1 (14 oz.) can sweetened condensed milk
2 c. mini chocolate chips
Here is the GLAZE I used:
Chocolate Glaze: (love this glaze!!!! Cuts awesome!!!!!)
2 & ¼ ounces unsalted butter
4 ounces dark chocolate
1 & ½ teaspoons light corn syrup
Instructions
In a large bowl, mix together butter and light brown sugar until light and fluffy (about 3 minutes). Add vanilla extract and beat until combined.
With the mixer on low speed, alternate mixing in flour and sweetened condensed milk and mix until combined. Gently fold in mini chocolate chips with spatula.
Line 8x8-inch pan with parchment paper. Press the cookie dough into the pan (the cookie dough may be sticky, so lightly flour your hands).
Cover the bars with plastic wrap and refrigerate for 3 hours or overnight until firm.
For topping, Microwave butter & chocolate until smooth. Stir in corn syrup and pour over cookie dough layer. Chill the bars for 1 hour or until topping is firm.
Yield: 16 large bars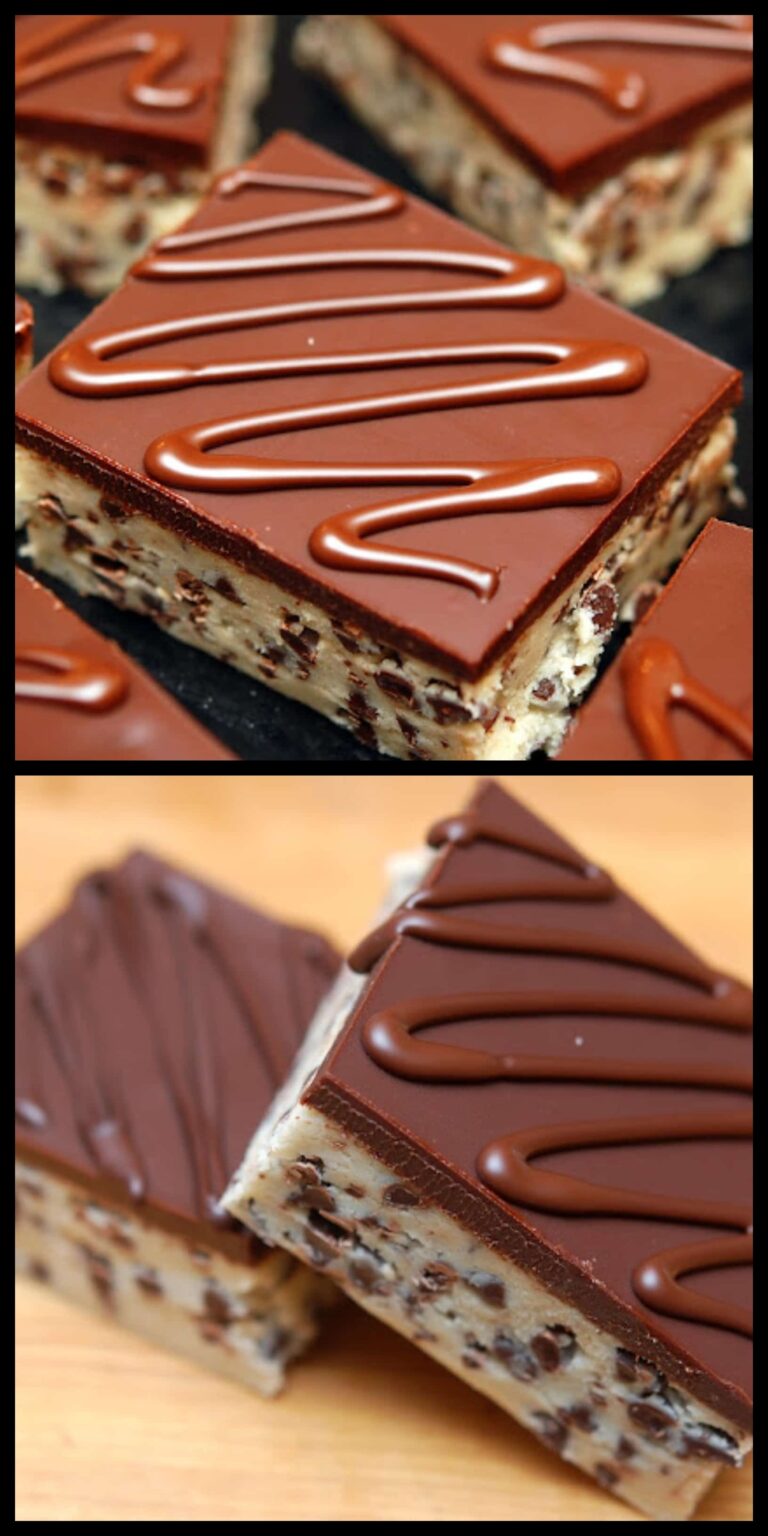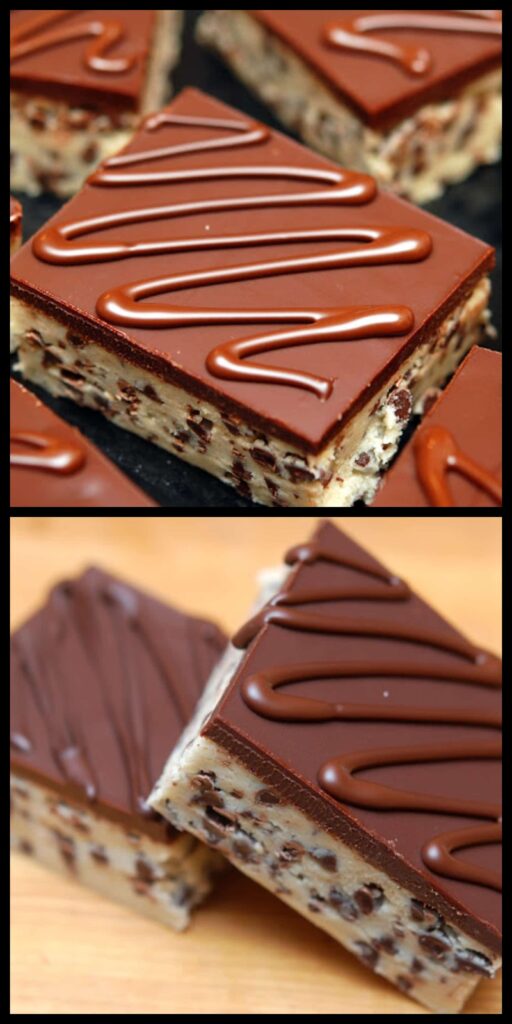 You May Love These, Too! XOXO