HERE'S OUR PEANUT BUTTER DOUGH MEETING UP WITH HIS BEST FRIENDS…THE PEANUT BUTTER CHIPS!
NEXT, I POURED SOME HOMEMADE HOT FUDGE ONTO THE PEANUT BUTTER BATTER AND SWIRLED AWAY!


VOILA!!!!! NOW YOU HAVE HOT FUDGE & PEANUT BUTTER BAKED UP TOGETHER!
RECIPE!!!!!!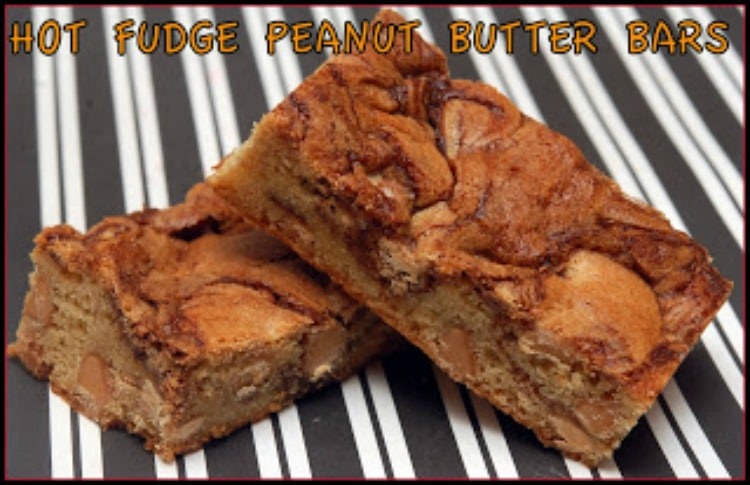 1 STICK SOFT BUTTER
1/4C. PEANUT BUTTER
1C. SUGAR
1C. BROWN SUGAR
3 EGGS
1 TSP. VANILLA
2C. FLOUR
2 TSP. BAKING POWDER
1/4 TSP. SALT
10 OUNCE BAG OF PEANUT BUTTER CHIPS
PREHEAT OVEN TO 350. LINE 9X13 PAN WITH NONSTICK FOIL. BEAT BUTTER AND SUGARS. ADD EGGS, VANILLA. ON LOW, ADD ALL THE DRY INGREDIENTS. STIR IN THE CHIPS AND SPREAD IN PAN. SPREAD THE HOT FUDGE ON TOP AND USE A KNIFE TO SWIRL IT THROUGH THE BATTER. BAKE FOR 35-40 MINS. COOL & CUT!
You May Love These, Too! XOXO