Sausage and Broccoli in Sun Dried Tomato Cream Sauce
This is simple yet delicious and perfect for a weeknight meal. I used homemade fettuccine in this which is beyond amazing but of course, a box of pasta will be fabulous, too! I bought my sweet Italian sausage from Whole Foods. The links are HUGE so I only used 2. Otherwise, you may want to use 4.
You may want to try a scan pan! The best!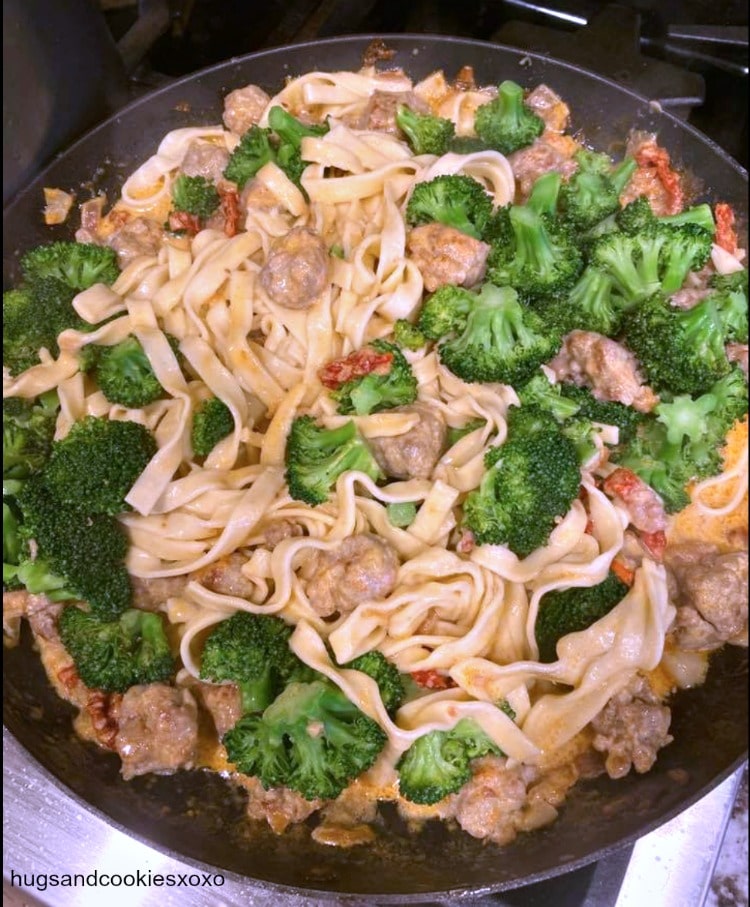 Sausage and Broccoli in Sun Dried Tomato Cream Sauce
Ingredients
Broccoli
2 heads broccoli, chopped
2 T. butter
Sauce
T. olive oil
½ red onion chopped
2 large sweet Italian sausage links, casings removed
6 garlic cloves, chopped
6 sundried tomatoes
paprika, salt to taste
1 cup chicken broth
½ cup heavy cream
⅓ cup parmesan cheese
pasta, cooked and tossed with butter/salt
Instructions
Broccoli
Steam broccoli and toss with butter/salt to taste, set aside
I did this in a large pampered chef steamer pot.
Sauce
Heat butter and oil in skillet.
Add onion and sauté for several minutes.
Add sausage and break apart into pieces.
Cook on medium unitl lightly browned.
Add garlic for 2 mins.
Add broth, cream, cheese, paprika, sundried tomatoes and salt.
Bring to a boil and simmer on low 10 mins.
Add cooked pasta and buttered broccoli when ready to serve.
You May Love These, Too! XOXO