These smores chocolate chip cookies are outrageous. They start with a sinful chocolate chip cookie, get topped with toasted mini marshmallows, dunked in melted chocolate and sprinkled with crushed graham cracker crumbs. Need I say more? Well, I will. I will tell you that when you broil the marshmallows and the directions to say to watch closely, they mean it. I walked away for maybe a minute and came back to a fire in my oven. Literally and even though they say DO NOT OPEN THE OVEN, the fire was not smothering itself out. Enter panic mode and call the hubby. He wanted to open the oven. I assured him Google said NO. Yet, being brave he opened it and used a can of fire prevention magic which put it out in one second. I had bought this can in Bed Bath and Beyond many moons ago—it was even expired at the time he used it-but I say get yourself a can! It is called Tundra and was amazing!!! You can find it here on amazon—> Tundra 
Here are my burnt cookies in case you were wondering. This was taken once the fire went out! LOL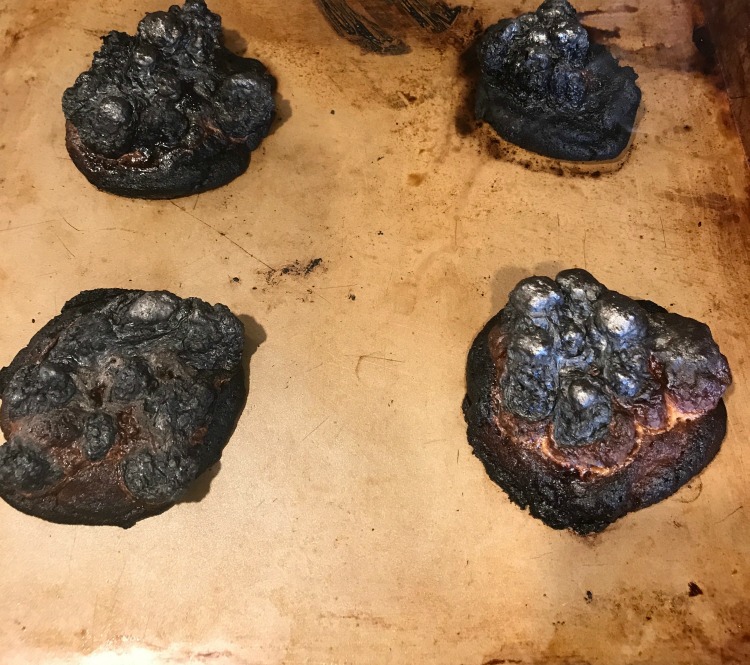 And here are the beauties, the delicious ones!!!
You'll Need:
Smores Chocolate Chip Cookies
Ingredients
Cookies
2½C. Flour
1 tsp. Baking Soda
1 tsp. Salt
1C. dark brown sugar
½C. White Sugar
2 sticks butter
2 Eggs
2 tsp Vanilla
2 cups semisweet chips or 10 ounce bag Guittard super cookie chips
To Top
mini marshmallows
melted chocolates (Milk or Dark)
Graham Cracker Crumbs
Instructions
Cookies
Beat butter and sugar until creamy.
Add eggs and vanilla. Mix well.
Add dry ingredients.
Add chips.
Chill 30 mins.
Scoop with a large scoop. (1⅞ ounces dough is what I use for each cookie.)
Bake at 300 degrees on parchment or silpat (convection if you have it) for 15-18 minutes.
Remove from oven and remove to wire rack to cool.
To Top
Once cool, top each cookie with a few marshmallows.
Broil carefully to brown-do not walk away-watch closely!
Cool again, then dip in chocolate and sprinkle on the graham cracker crumbs.
Let set.
Inspired by The Cookie Rookie-see here version here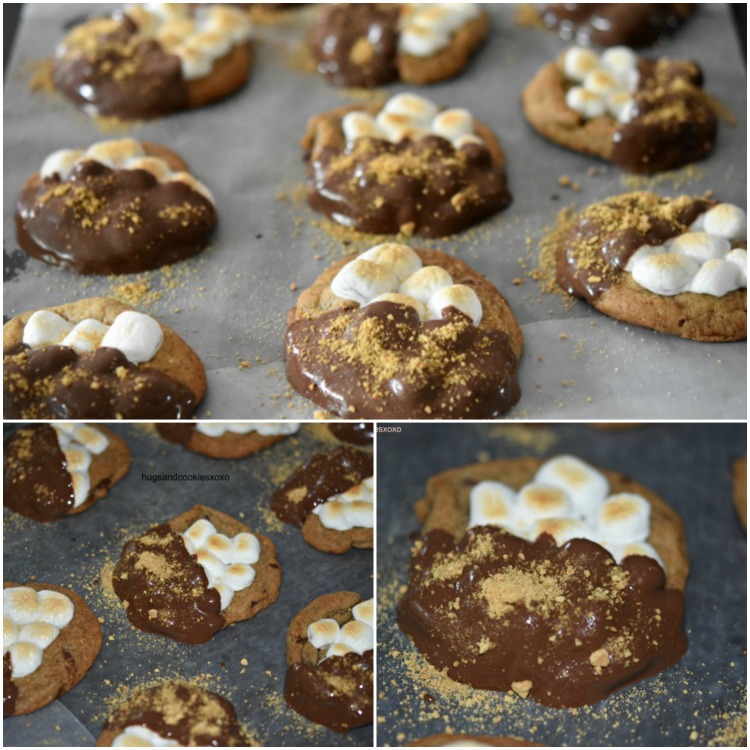 You May Love These, Too! XOXO