Stuffed Cookie Pie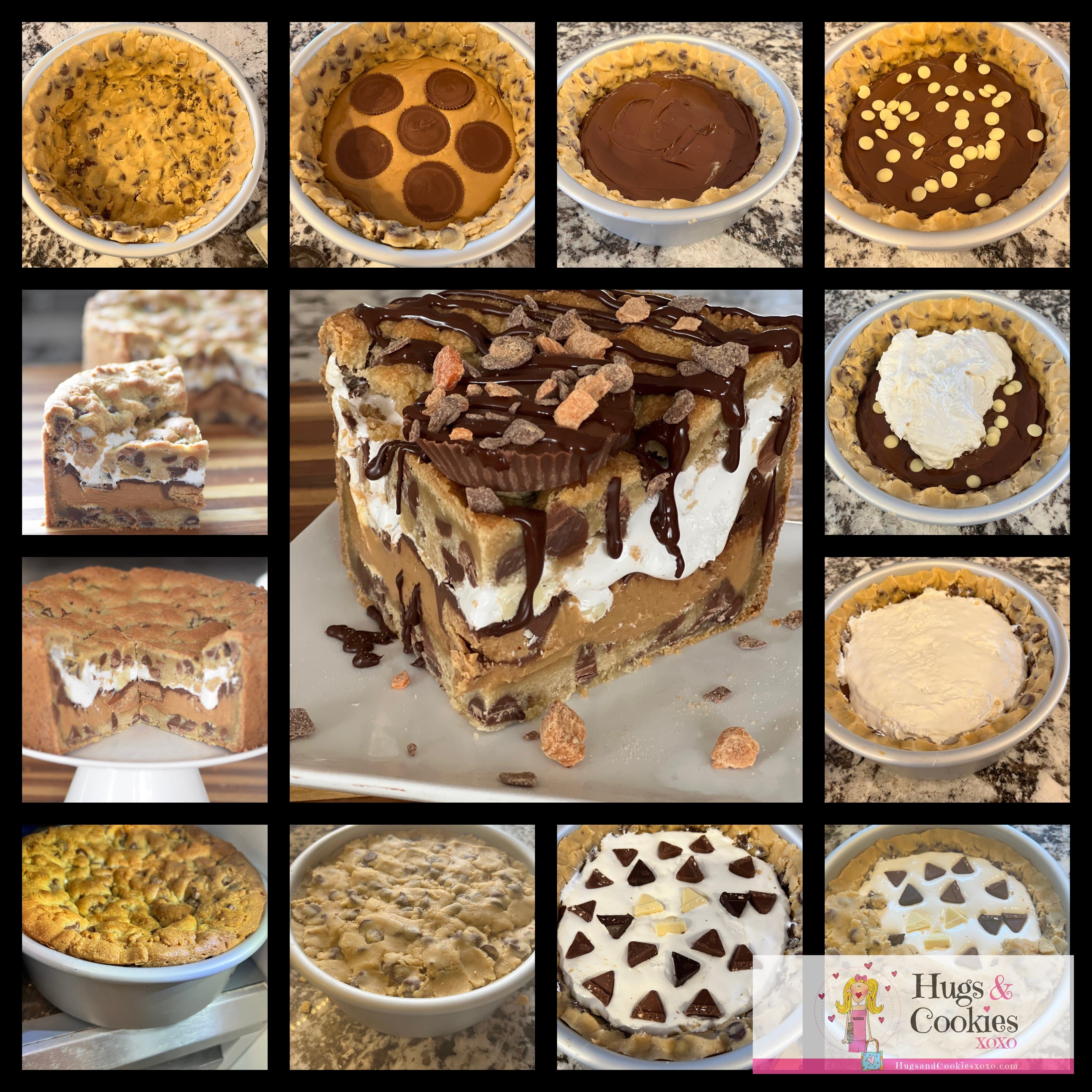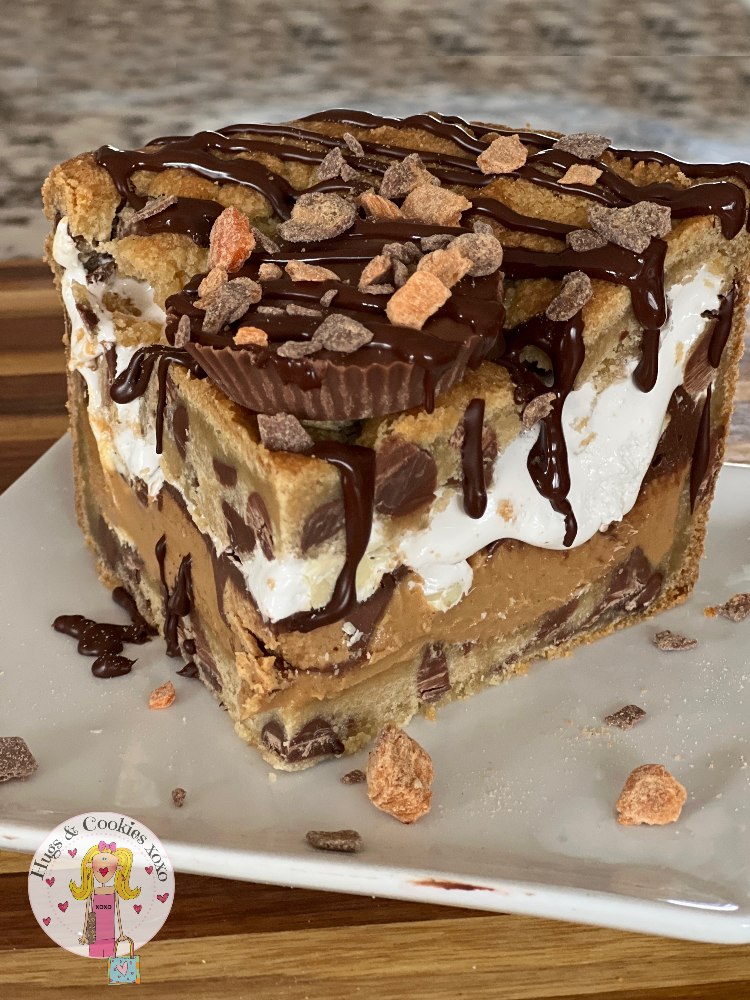 You may need:
food scale   (Or you can use a google converter for cups. I do love the scale because it is so precise.)
Cookie Pie Overload
Ingredients
Cookie Dough
200 g salted butter
225 g light brown sugar
100 g granulated sugar
1 egg plus 1 egg yolk
1 tsp vanilla
425 g all-purpose flour
2 T. cornstarch
1½ tsp. baking soda
½ tsp kosher salt
400 g milk chocolate chips
Filling
400 g creamy peanut butter
200 g marshmallow cream
150 grams nutella
handful of white chocolate chips
a few mini Toblerone candies broken up into triangles
6 mini Reese's peanut butter cups
Garnish
dark chocolate chips, melted for a drizzle
butterfinger pieces to sprinkle on top
mini Reese's, one per slice
Instructions
Beat butter and sugar until creamy.
Add the egg, yolk and vanilla and blend.
Add in the flour, cornstarch, baking soda and salt to form your cookie dough.
Add the chocolate chips and beat until all combined.
Divide dough into 3 equal portions (475g each)
Line the bottom of an 8 inch removable bottom cheesecake pan (Mine is 8x3) with parchment or use a springform.
I did not grease the pan but next time I will try using Pam as it was a slight challenge removing the sides. A knife around the edges helped to release it just fine and letting it sit at room temp a few mins.
Press ⅓ of the dough in the bottom.
Press another third around the edges-not all the way to the top but pretty high.
Melt the peanut butter just a few seconds until pourable and pour into the crust.
Top with your Reese's (you don't want the pb too hot or the chocolate will melt)
Pop in the freezer to firm up 10-15 mins.
Microwave the nutella a few seconds to soften and spread carefully over the frozen peanut butter layer. Sprinkle on a few white chocolate chips and freeze again 10-15 mins.
Carefully spread the marshmallow on next. (Tip: lightly wet the back of an offset spatula to help it spread) Lay the Tobelrones on top.
Freeze the cookie pie at this point for one hour.
Next, press the last third of dough on top to close everything in. Try pushing the edges down a bit to reduce the "sinking" look after it bakes.
Freeze for another hour and then bake at 350 convection for 30 mins.
Cool to room temp and place in fridge overnight.
Remove the next day and let sit a few mins to help sides release.
Serve slices with a peanut butter cup, melted chocolate drizzle and some butterfinger pieces!
Adapted from
Jane's Patisserie
You May Love These, Too! XOXO